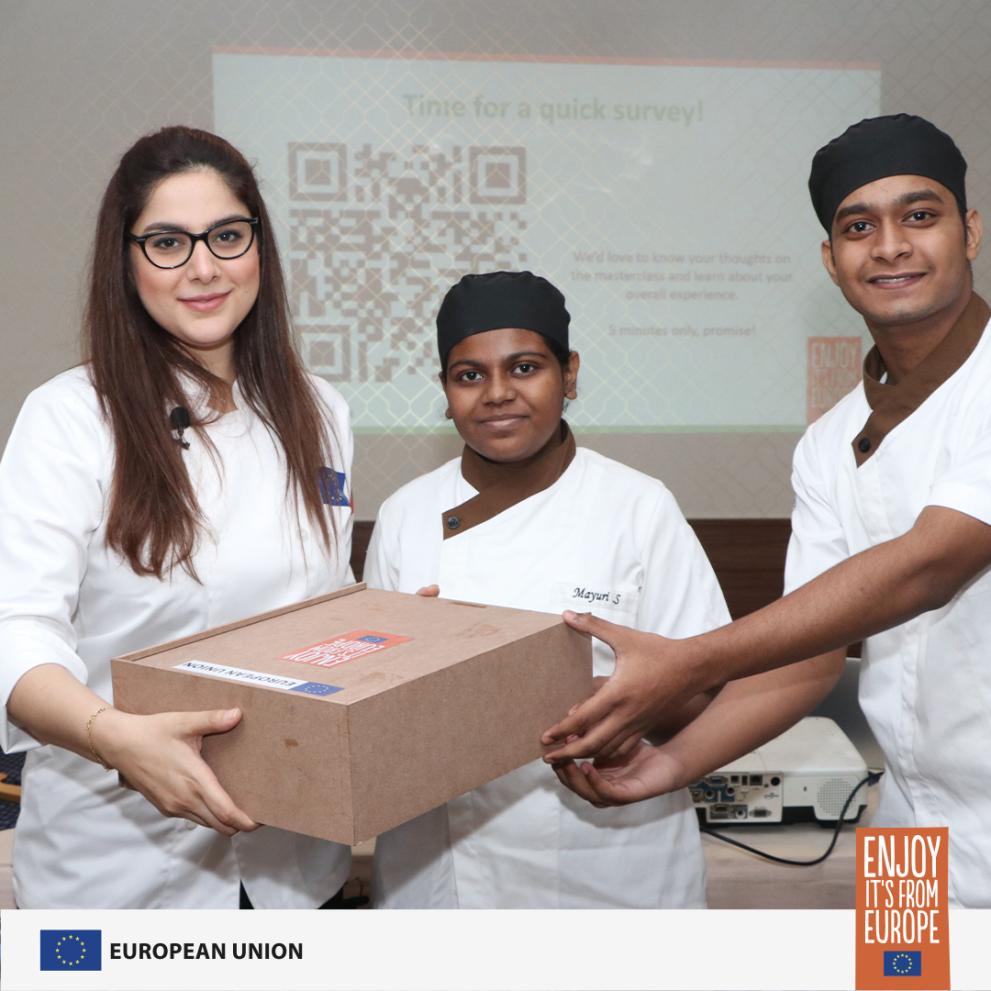 Spanning over two hours, the masterclass gathered 30 students keen to understand the culinary traditions of the EU. Campaign ambassador Chef Guntas Sethi presented the young people with captivating stories of authenticity, sustainability, safety and quality of EU food and beverages.
The cooking class started with a presentation about the European Union's food and beverages, showing the limitless possibility of pairing EU products with Indian dishes. The session was far from a typical lecture – it was filled with interactive quizzes and surprising facts, sparking insightful discussions between the participating students and Chef Sethi. 
Following the knowledge session, the spotlight turned to the kitchen, where Chef Sethi led a live cooking demonstration. Showcasing 8 'hero' ingredients sourced from 9 different EU member states, the Chef provided a hands-on experience to the students. From touching and smelling each ingredient to witnessing their transformation into delicious dishes, the students got a first-hand experience of the superior quality of EU's food and beverages.
Chef Guntas also prepared a small competition challenge for the students, encouraging them to brainstorm unique Indo-European recipes, symbolising a culinary fusion of India and the EU. This challenge sparked impressive student engagement, culminating in a tie between two innovative recipes.
The winning dishes were a testament to the successful fusion of two diverse culinary cultures: a Kerala style stew with pasta and shiitake mushrooms and a white chocolate barfi (a traditional Indian sweet) stuffed with Aam Papad, an Indian fruit leather made from sundried mango pulp.
This masterclass at IHM Mumbai demonstrated not only the versatility and quality of EU ingredients but also the creativity and enthusiasm of the next generation of India's culinary professionals.
Details
Publication date

21 November 2023

Author
Target audience

B2B